Wednesday, June 10, 2009
The Papahānaumokuākea 'Ahahui Alaka'i (PA'A) workshop began today with a trip to the windward side of Oahu where all the PA'A participants finally got a chance to meet each other and start forming our bonds for our upcoming adventure to Midway. After a brief orientation at Windward Community College, we were shuttled to Coconut Island, and the Hawai'i Institute of Marine Biology (HIMB). If you've seen an episode of Gilligan's Island, you've seen Coconut Island. (It's the island shown in the background during the opening credits of the show.) When we left the island today, we asked our boat captain to take us for a spin around the island. He agreed and proceeded to circumnavigate the island in about 3 minutes. Don't let the size of this little island fool you… it is jam-packed with science and some of the highest technological equipment I've ever seen. I've included a slide show from today's activities and will try to share more as the week progresses.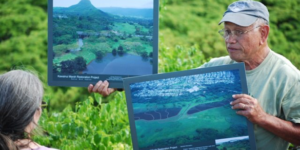 The photo of the day goes to Dr. Chuck Burrows (age 76), a retired educator who is spear-heading efforts to restore Hawai'i's largest wetlands to its original status. Chuck introduced us to the 450-acre wetlands site with a hike and a stewardship activity designed to familiarize us with his restoration efforts to remove invasive plant species and reintroduce indigenous species.

---
REVIEW TOPIC: WETLANDS and BASINS
Wetlands play a vital role in the ecosystem, providing nurseries and food web support for aquatic life and creating buffer systems between runoff from land and the ocean. The project I am designing, based on my PAA experiences, also involves wetland areas near my home. The Rachel Carson Estuary Research Reserve is adjacent to the Beaufort waterfront (southeastern North Carolina) and includes over 2000 acres of salt marsh wetlands. Follow the hyperlink to learn more about this key component to the White Oak River Basin.