Wednesday, June 15, 2011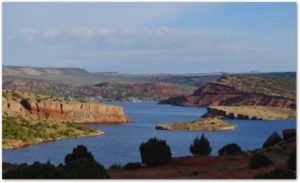 Wyoming offers a diverse landscape that is both pleasing to the eye and challenging to the cardiovascular system. This morning, I ran across active sand dunes, located at an elevation of 6595' above sea level. The height of the dunes rivaled Jockey's Ridge (Kill Devil Hills, Outer Banks, North Carolina). This afternoon, I hiked and climbed 340' above the reservoir to search for dinosaur fossils.
In today's Looking West photo, multiple layers of sediments stored as rocks by Earth's rock cycle can be seen: from the red clays in the foreground to the white siltstones in the distance and a variety of sandstones and limestones in between. As you look out over this landscape, imagine what life might have been like as these sediments were being deposited. The ages of the rocks seen in this view range from 5 million years ago to as far back as 360 million years ago.