June 13, 2009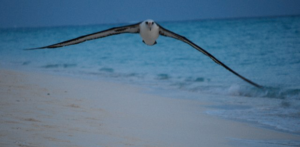 My Hawaiian cohorts have been tutoring me in their native language and, during the flight to Midway, I was told that their language does not have words for everything. After spending the morning walking among the birds, sea turtles, and monk seals who call this island their home, I am unsure if the English language has the words to describe the Midway Wildlife Refuge. For those of you who have visited the Cape Lookout National Seashore, multiply that exponentially and you might get a fractional sense of what I am experiencing… it would be a fraction in the thousandths.
I headed to the beach before sunrise to welcome the morning and gaze in wonderment at (literally) millions of birds. Albatross are nesting everywhere… roadways, grasslands, sidewalks, and any other ground space they could claim. Some were resting (see Bill Albatross below), some were stretching their wings in preparation for the day they might take to the air like their parents, and some were practicing courtship rituals (photo on right) just like the middle school kids I teach.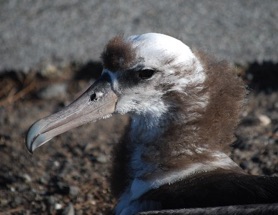 ---
REVIEW TOPIC: PLATE TECTONICS
The Hawaiian Islands have formed over a volcanic hot spot, or super plume, which lies beneath the tectonic plate on which they are found. Use today's photo to retrace the islands created from this hot spot. Which islands are the oldest in the chain? Which islands are the youngest? What is the name of this tectonic plate? Has this plate changed its directional movement through geologic time? If so, identify the different directions in which this plate has moved. Go to the USGS Dynamic Earth website to learn more about this unique geologic feature.