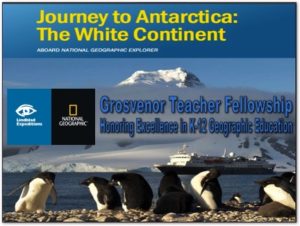 Ms. Sutton's expedition to Antarctica was funded by Lindblad Expeditions/National Geographic through the Grosvenor Teacher Fellowship. (Credit: Lindblad Expeditions & National Geographic)
My final adventure for 2014 completes a 15-year quest to journey to the Southern Continent. I am patiently awaiting the first flight in a series of travel connections that will carry me to my Antarctic destination. The next few days will be filled with travel logistics, new faces, and new places far beyond my wonderful world in Beaufort, NC. I have provided my daily itinerary and welcome you to follow along as I share my reflections on the adventures that await me in the Southern Hemisphere. Daily updates and photos will also be added to my Science by the Sea Facebook, Twitter, and Instagram pages.
Day 1: Depart the United States for Buenos Aires, Argentina
Day 2: Arrive in Buenos Aires with a 2-night stay at the Caesar Park Hotel.
Day 3: Touring Buenos Aires' Beaux Arts palaces including the "Casa Rosada", La Boca, and the Recoleta Cemetery.
Day 4: Depart Buenos Aires for Ushuaia, Argentina (the southernmost city in the world). In Ushuaia, we will board a catamaran for a luncheon cruise along the Beagle Channel before embarking on the National Geographic Explorer vessel bound for Antarctica.
Day 5: At Sea – crossing the infamous Drake Passage
Day 6 – 11: Exploring Antarctica
Day 12 – 13: At Sea – returning across Drake Passage to Ushuaia
Day 14: Depart Ushuaia for Buenos Aires and return flights to the United States.
The journey continues here: "Crossing the Equator"