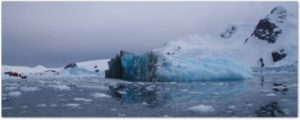 Scraping and bumping sounds along the side of the ship were heard before the morning wake up call came over the ship's PA system. (See Image: Dirty Icebergs) I looked out the port hole window and discovered that the ship was surrounded by a sea of ice bergs, brash ice, and bergy bits. We were entering Cierva Cove. The colors were amazing. This is not an all white continent. The various hues of blue provide contrasting accents to the brilliant whites of the various shapes of ice. Phytoplankton also contributes by adding shades of green beneath the submerged icy surfaces.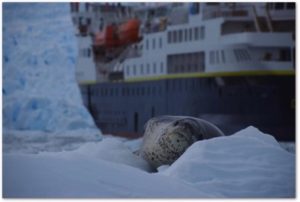 The ship stopped in the Cove and the zodiacs were deployed to provide us with a closer view of the ice. Our naturalists described the physics as we observed the dynamics of the ice and listened to the various ranges of pops and cracks that could be heard as the molecules of compressed ice began to release their potential energy into the air around us.
As our zodiac meandered through the icy landscape, we drifted by a leopard seal, lying atop one of the ice flows. The seal seemed indifferent to our curiosity, peering at us lazily as he lounged on the ice.
We ventured around Enterprise Island during our afternoon zodiac adventure and finished with a circumnavigation of "The Governoren I," a Norwegian whaling ship that sunk in 1915. (See Image below.)

A surprise landing and brisk hike up 1000 feet to Spigot Peak brought us to our first Gentoo penguin colony on Danco Island. The strenuous climb was rewarded with spectacular vistas, including Antarctica's version of a summer sunset. (See image below.)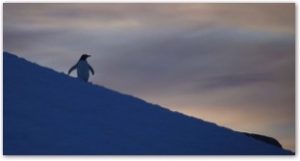 Today's Daily Program Quote:
"Glittering white, shining blue, raven black, in the light of the sun the land looks like a fairy tale. Pinnacle after pinnacle, peak after peak, crevassed, wild as any land on our globe, it lies, unseen and untrodden."
— Roald Amundsen
Today's Sunlight Data:
Sunrise: 0222
Sunset: 2353
The journey continues here: "Orne Harbour, Cuverville Island, & the Errera Channel"