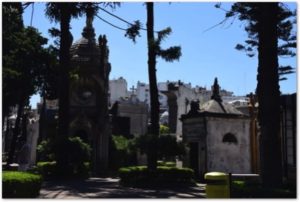 Lindblad Expeditions/National Geographic provided us with a guided tour of Buenos Aires, which included one of the most unusual tours I have yet to experience. The Recoleto Cemetery is located in the middle of the city and is surrounded by skyscrapers, shopping centers, and various forms of public transportation. Even more unique is the layout of the cemetery. It is literally blocks and streets of tombs and memorials. (See Image: The Recoleto Cemetery) I have listed several tidbits of information the guide provided throughout our tour, in addition to a couple of observations I noted during my brief visit to Buenos Aires.
Origin of Argentina: Argentina gets its name from "argentine," which means "silver." Although, silver was once discovered in Argentina, the guide noted that silver deposits were now rarely found there
Argentina Flag Colors: The Argentinians decided to adopt their national flag colors based on the color of the next vessel to enter the harbor. It was a Swedish vessel, hence the blue and white flag.
Argentine Tango: The story behind the dance tells of a man who was "done wrong" by his woman. The dance displays his unhappiness and frustration with women. The man felt that all women were bad except for his mother and his sister.
Personal Observations from Ms. Sutton:
"Street Children": I was a bit disturbed by the number of school-aged children I observed juggling tennis balls for tips along the lighted intersections. As soon as the traffic stopped for the light, the child would step in from of the vehicles and begin their juggling act. Once completed, s/he would approach the stopped vehicles for tips.
Argentina Highway Rules: Where everyone drives as fast as they can and the lane lines don't matter.
The journey continues here: "Ushuaia: The Southernmost City in the World"