Seasons and Biomes GLOBE Training – Fairbanks, AK


Ms. Sutton traveled north to Fairbanks, Alaska for a summer workshop to learn new inquiry and project-based activities designed to encourage students' observation skills. Prior to leaving, she polled her students for their questions about Alaska. View their questions by following  this link:
---
GEOS 898 – Methods in Geoscience Field Instruction – University of Nebraska – Lincoln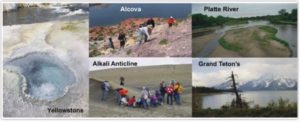 Ms. Sutton headed west with a group of graduate students and teachers to explore the geology of Wyoming. Follow her links for your own virtual tour of these unique geologic features.
---
EARTH 2011 Workshop – Kasitsna Bay, AK


Learn more about Ms. Sutton's Ocean Observing workshop in Kasitsna Bay, Alaska by following the EARTH and COSEE links (above). The EARTH website includes resources used in the workshop, as well as the workshop schedule and a photo gallery. Enjoy!