Something Fishy Workshop – Beaufort, NC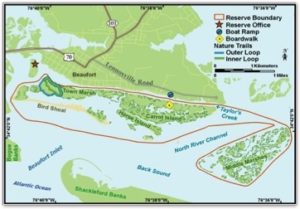 Ms. Sutton's 2014 summer began in the Rachel Carson Estuarine Research Reserve with researchers from UNC's Institute of Marine Sciences as they conducted a teacher workshop to explore the structure, function, and conservation of various fish habitats, including: oyster-reefs, salt marshes, and seagrass beds. This workshop is made possible by a grant from the NC Division of Marine Fisheries-Coastal Recreational Fishing License Grants Program.
---
Teacher at Sea – R/V Melville – California Current, CA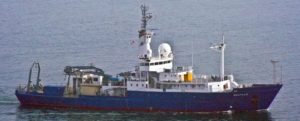 Ms. Sutton boarded the Research Vessel Melville in San Diego, CA to complete her fourth Teacher at Sea experience. She worked with scientists from UNC's Institute of Marine Sciences as they  investigated the impact of iron limitation on the distribution and physiology of diatoms. Diatoms are single-celled phytoplankton, which supply about 20% of the oxygen we breathe. The scientists Ms. Sutton worked with visited her science classes prior to the expedition to discuss the upcoming research with her students. Ms. Sutton also conducted some of the experiments her students designed while she was out to sea.

Funding for this research experience was provided by NSF Grant #1334935.
---
EARTH 2014 Workshop – Monterey, CA

Ms. Sutton completed her Summer 2014 travels in Monterey, CA while participating in the EARTH Workshop with teachers from around the United States. The workshop was co-sponsored by the Monterey Bay Aquarium Research Institute (MBARI) and the Center for Dark Energy Biosphere Investigations (C-DEBI). Researchers provided teachers with real-time data and research conducted at MBARI and at C-DEBI and assisted teachers in developing classroom activities using their data.
Funding for the EARTH 2014 Workshop was provided by a grant from the MBARI and C-DEBI.