National Marine Educators Conference – Newport, RI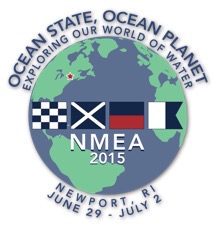 Ms. Sutton presented classroom activities she developed through two of her unique 2014 research experiences: "An Inquiry-based Investigation Exploring Microscopic Food Webs in Earth's Ocean" (R/V Melville Teacher at Sea Experience); and "Using Sea Surface Temperature to Investigate the Antarctic Convergence Zone" (Grosvenor Teacher Fellowship to Antarctica).
Follow the links below to download the activities presented at NMEA 2015:
Teacher Resources – R/V Melville TAS Experience
Teacher Resources – GTF Antarctica Expedition
Funding to attend the NMEA Conference is provided by NSF Grant #1334935 and an NMEA Scholarship.
---
EARTH 2015 Workshop – New Brunswick, NJ
Ms. Sutton also traveled to the Hatfield Marine Science Center in Newport, Oregon where she joined teachers from around the country to explore topics related to microbial oceanography. The teachers worked with researchers from Monterey Bay Aquarium Research Institute (MBARI) and Oregon State University (OSU) to integrate real scientific data into classroom activities.
Funding for EARTH 2015 is provided by MBARI and the Oregon Coast Regional STEM Center and Math Science Partnership.